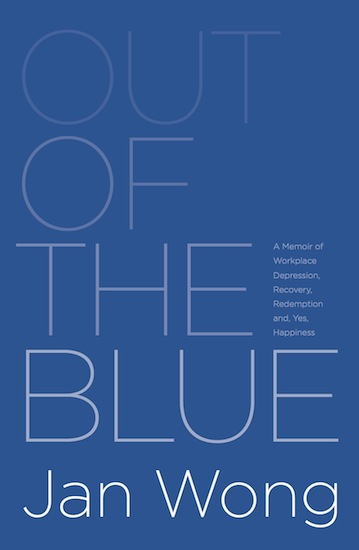 Book Launch
Matt Galloway, Host of CBC's Metro Morning, will host the book launch at the North York Central Library on Monday May 7 at 7 pm.
Event information and map.
About the book
For twenty years, Jan Wong had been one of her newspaper's best-known reporters. Then one day she turned in a story that set off a firestorm of controversy, including death threats, a unanimous denunciation by Parliament and a rebuke by her own newspaper. For the first time in her professional life, Wong fell into a severe clinical depression. Yet she resisted the diagnosis, refusing to believe she had a mental illness. As it turned out, so did her company and insurer. With wit, grace and insight, Wong tells the harrowing tale of her struggle with workplace-caused depression, and of her eventual emergence … Out of the Blue.
Out of the Blue, A Memoir of Workplace Depression, Recovery, Redemption and, Yes, Happiness, will be released April 28, 2012 online and at bookstores. Digital versions will be available on Amazon Kindle, the Apple iBookstore, Barnes & Noble Nook and more.
Ordering Information

Pre-order a copy of the book for delivery on May 5, 2012.
Shipping is included in the price. Prices are in Canadian dollars. If you would like the autograph made out to a different name please specify at checkout.

Canada

21.99 + HST
USA
$30
International
$38
For inquiries related to online book purchases, please email payment@janwong.ca
For large order purchases or for independent bookstore orders, please contact Paul Yeung at (416) 454-8295 or email pmwyeung@yahoo.ca.


Praise for Out of the Blue, a Memoir of Workplace Depression, Recovery, Redemption and, Yes, Happiness

"Jan Wong has clearly and accurately presented the history, signs and symptoms of depression and its underlying and associated pathological correlates. Her research is thorough and presented clearly. Bravo! Perhaps more importantly, she has painted an accurate and evocative portrait of a person trying to live a life with major depression. (The Noonday Demon fails in this. It's too hard a read because of Andrew Solomon's dense narcissism.) Jan Wong tells the story like a human being, in a way which will edify, disturb, or comfort the reader depending on who he or she is, but whatever that reader's detailed response, they'll be seriously engaged."
-- Dr. Irvin Wolkoff, Toronto psychiatrist, writer and broadcaster.