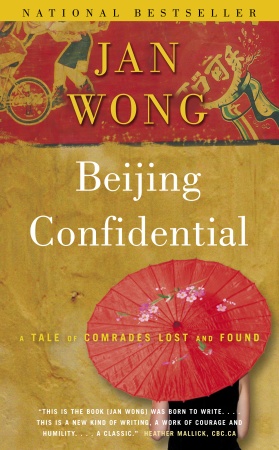 Popular and award-winning journalist Jan Wong returned to Beijing on the eve of the 2008 Olympics. Her quest: to find someone she encountered briefly in 1973, and whose life she is certain she had ruined forever.
In the early 1970s, Jan Wong traveled from Canada to become one of only two Westerners permitted to study at Beijing University. One day a young stranger, Yin Luoyi, asked for help in getting to America. Wong, then a starry-eyed Maoist, immediately told her teacher, a strident Communist Party member she dubbed "Fu the Enforcer." Thirty-four years on, and more than a decade after the publication of her bestselling Red China Blues, Jan Wong revisited the Chinese capital to begin her search for the person who had haunted her conscience. She wanted to apologize, to somehow make amends. At the very least, she wants to discover whether Yin had survived.
As Jan Wong hunted through the Chinese capital, she found herself traveling back through the decades, back to her experiences in the Cultural Revolution, to places that were once of huge importance to her. She had changed, of course, but not as much as Beijing. One of the world's most ancient cities had become one of its most modern. The neon signs no longer said "Long Live Chairman Mao" but instead touted Mary Kay cosmetics and Kentucky Fried Chicken. Places she once knew had vanished, bulldozed into oblivion and replaced by avant-garde architecture, trendy bars and sleek condos. People she knew had changed, too, for better or for worse. Memories were everywhere. By searching out old friends and acquaintances, Jan Wong uncovered tantalizing and troubling clues about the woman she wronged. She realized her deepest fears and regrets were justified, even while Yin herself remained elusive.
Emotionally powerful and rich in detail, Beijing Confidential weaves together three distinct strands — Jan's journey from remorse to redemption, Yin's journey from disgrace to respectability, and Beijing's stunning journey from communism to capitalism.
Beijing Confidential has been translated into many languages, including French, Italian, Romanian, Japanese and Polish. The book is published in the UK as
Chinese Whispers
and in the US as
A Comrade Lost and Found
.
Critical praise for Beijing Confidential:
The Times, Book of the Week
"Imagine a bookshop freed from orthodoxy, where books are displayed in the way we reassemble lives in our mind — where we do not distinguish between fictions and absolute truths, instead grouping together journeys and battles and love affairs, whether we lived them, dreamt them or heard of them on the bus home.
"That is what I did — on a rainy Sunday afternoon — after reading Jan Wong's new book, Chinese Whispers. Waterstone's will file it under travel literature, or perhaps memoir. Yet it's also a quest, an exciting one, and in my newly reordered bookcase it sits alongside Moby-Dick, the Odyssey, The Search for the Panchen Lama by Isabel Hilton, and The Perfect Storm by Sebastian Junger. Comfortably so, I think.
…
I am tempted to say that the direction taken by Wong points the way for the future of travel writing. All too many recent journey-quests are narrative fig leaves for mere landscape painting. Nothing can best the drama of a search for a live human being — as long as the writing can keep pace with the story. Wong's is crisp like Hammett's and as effortlessly insightful as Dr. Johnson's. She ought to be included on any hit-list of female chroniclers of post-Mao China, alongside Jung Chang, Nien Cheng and Xinran Xue, except of course that on my own bookshelf she is nowhere near them."
—Oliver August, author of Inside the Red Mansion: On the Trail of China's Most Wanted Man.
National Geographic Traveler, New Books that Transport Us
"The quest is a common theme in travel literature, but Chinese-Canadian journalist Jan Wong's new book, A Comrade Lost and Found, delivers that theme with a special karmic twist: Thirty-three years after she lived in Beijing as a visiting starry-eyed Maoist student, Wong returns to try to find the fellow student she naively betrayed to school authorities, who was subsequently expelled from the school. This compelling quest leads the Toronto-based writer — with her husband and two children in tow — on a winding journey through the 21st-century iteration of her ancestral land, where favorite landmarks from her student days have been bulldozed for luxury condominiums and where a "culture of amnesia" seems to have erased all evidence of the Cultural Revolution. Wong's demanding, brave journey — recounted with keen observation and lively humor — offers idiosyncratic insights into China past and present."
—Don George
The Christian Science Monitor
… a sharp, keenly observed chase through China's past and present that somehow manages to be poignant, comic, alarming, and informative all at the same time.
—Marjorie Kehe, the Monitor's book editor