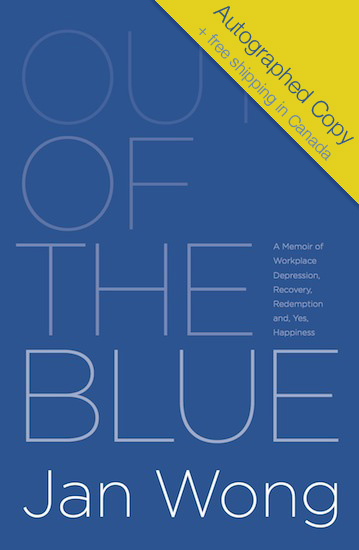 Ordering Information
Prices are in Canadian dollars.
Canada 21.99 + GST (Free shipping!) USA $30 (shipping included) International $38 (shipping included)
Booksellers or large orders, please contact:
Paul Yeung
pmwyeung@yahoo.ca
(416) 294-6554
For twenty years, Jan Wong had been one of the Globe and Mail's best-known reporters. Then one day she turned in a story that set off a firestorm of controversy, including death threats, a unanimous denunciation by Parliament and a rebuke by her own newspaper. For the first time in her professional life, Wong fell into a severe clinical depression. Yet she resisted the diagnosis, refusing to believe she had a mental illness. As it turned out, so did her company and insurer. With wit, grace and insight, Wong tells the harrowing tale of her struggle with workplace-caused depression, and of her eventual emergence … Out of the Blue.
Out of the Blue is available on this website and in bookstores across Canada.
Ebook available at
iBookstore
,
Kindle
,
Kobo
,
NOOK
.
Columbia Journalism Review:
Jan Wong on why journalists need to talk about mental illness
CBC The National
Jan Wong on CBC Strombo
Praise for Out of the Blue, a Memoir of Workplace Depression, Recovery, Redemption and, Yes, Happiness:
"Jan Wong has clearly and accurately presented the history, signs and symptoms of depression and its underlying and associated pathological correlates. Her research is thorough and presented clearly. Bravo! Perhaps more importantly, she has painted an accurate and evocative portrait of a person trying to live a life with major depression. Jan Wong tells the story like a human being, in a way which will edify, disturb, or comfort the reader depending on who he or she is, but whatever that reader's detailed response, they'll be seriously engaged."
-- Dr. Irvin Wolkoff, Toronto psychiatrist, writer and broadcaster
"Jan Wong is a wonderful writer and, as she tells her own story, she speaks for me and for many. Some say depression is a gift. Well, it's not. But this book is."
-- Shelagh Rogers, O.C., Broadcast journalist and recipient of the Champion of Mental Health Award
NOW Magazine
wondering why Doubleday suddenly decided to drop the book: "I mean, really, what's likely to sell more, a book about depression with a courageous personal account by a survivor of the disease or a book about depression with a courageous personal account by a survivor of the disease that includes her conflict with her employer, Canada's iconic national newspaper?"
Look for an excerpt of Out of the Blue in
The National Post
and
Chatelaine
.
Quill & Quire
- One of the top 5 non-fiction titles that mattered the most in 2012
The Toronto Star
- Jan Wong's Self-Published Memoir Hits Bestseller List
CBC The Sunday Edition
- Interview with Michael Enright
The Toronto Sun
- Jan Wong fought the Globe – and won
Maclean's
- "Out of the Blue is the first of a new genre: the workplace divorce memoir."
Q&A with CBC.ca
- "This is also a funny book. There's a love story in there too, about the support that came from your sister, your husband and your two teenage sons."
CTVNews.ca
- "A no-holds-barred account"
Toronto Star
- "An instant classic"
CBC The National
- Interview with Deana Sumanac
CBC Strombo
- Interview with George Stroumboulopoulos
Global Toronto
- The Morning Show
Fairchild TV
- Chinese language interview
Ottawa Citizen
- "Jan Wong's latest book should be titled: Reporter Eats Newspaper for Lunch… a gossipy, gripping page-turner"
Metro
- "Bestselling author aims to start national conversation on workplace depression"
Now Magazine
- "Tapping into her journalistic rigour, she … gives a complete profile of the disease and its history."
The Georgia Straight
- "Author Jan Wong triumphs over workplace depression"
Huffington Post
- "What happens when you're a leading journalist at a national newspaper -- and workplace stress leaves you too depressed to write?"
Publishers Weekly
- "Book Criticizing 'Globe and Mail' Self-Published"
TheCommentary.ca
- With Joseph Planta
The Senior Times
- Journalist tackles taboo of workplace depression with courage
Out of the Blue on the Globe and Mail bestseller list!