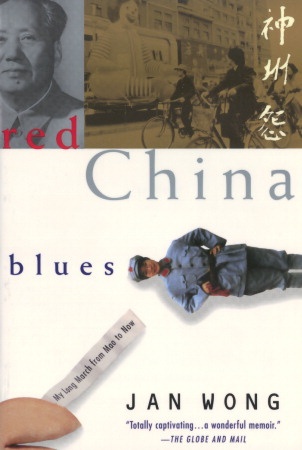 Jan Wong, a Canadian of Chinese descent, went to China as a starry-eyed Maoist in 1972 at the height of the Cultural Revolution. A true believer — one of only two Westerners permitted to enroll at Beijing University — her education included wielding a pneumatic drill at the Number One Machine Tool Factory. In the name of the Revolution, she renounced rock and roll, hauled pig manure in the paddy fields, and turned in a fellow student who sought her help in getting to the United States. She also met and married the only American draft dodger from the Vietnam War to seek asylum in China.
Red China Blues begins as Wong's startling memoir of her rocky six-year romance with Maoism. That love affair began to sour as she became aware of the harsh realities of Chinese communism, and led to her eventual repatriation to the West. Returning to China in the late eighties as a journalist, she covered both the brutal Tiananmen Square crackdown and the tumultuous era of capitalist reforms under Deng Xiaoping.
In a wry, absorbing, and often surreal narrative, she relates the horrors that led to her disillusionment with the "worker's paradise." And through the stories of the people — an unhappy young woman who was sold into marriage, China's most famous dissident, a doctor who lengthens penises — Wong creates an extraordinary portrait of the world's most populous nation.
China remains a powerfully compelling enigma. Here, at last, is a candid, informative book on China that is fun to read. Written by a brilliant journalist with an acute sense of irony, Red China Blues is both an engaging autobiography and an insider's view of China that few Westerners attain.
Praise for Red China Blues, My Long March from Mao to Now:
"With her unique perspective, Jan Wong has given us front row seats at Mao's theater of the absurd. It is hard not to laugh and cry… this book will become a classic, a must-read for anyone interested in China."
-- The New York Times
"Totally captivating. A wonderful memoir."
-- The Globe and Mail
"A marvelous book by one of Canada's best foreign correspondents at the top of her form."
-- The Gazette (Montreal)
"A splendid memoir: funny, self-mocking, biting and perceptive."
-- Washington Post
"A lovely read. One can only hope this book is the first of many."
-- Financial Post
"This deft intertwining of personal and historical perspectives makes for a riveting, human-scaled look at a nation so ambiguous to the West. Grade 'A'."
-- Entertainment Weekly
"Like no other observer, Wong charts China's course through its most turbulent period, writing with a pace and verve which is not the detached air of a journalist but the emotive involvement of a concerned participant."
-- The Times (UK)
"A remarkable window onto contemporary Chinese society… Jan Wong's writings about China are so original … [She] writes with such empathy about Chinese people less because she likes them than because she is like them… her intimacy allows for greater insight, her bias for a deeper understanding."
-- Maclean's magazine
"This superb memoir is like no other account of life in China under both Mao and Deng. . . . Unique, powerful and moving."
-- Publishers Weekly
Reader Feedback
"Recently I was given a copy of Red China Blues. I had to finish another book before starting yours and found it utterly fascinating - took me only a day to read but the content will remain indelible. Your book was totally riveting. I'm an ESL teacher out in Brampton and I occasionally get learners from mainland China and some of them senior citizens. They are always very reluctant to talk about their lives in China and certainly never say anything about the Cultural Revolution. Your book will help me to understand them better."
-- Diana Pakkala