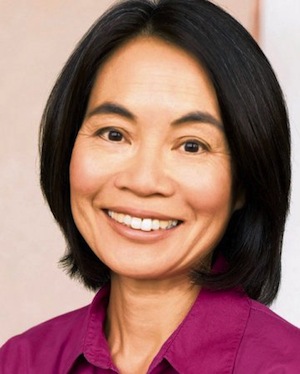 Jan Wong is a third-generation Canadian who grew up in Montreal speaking English, some French and zero Chinese. In the summer of 1972, while majoring in Asian studies at McGill University, she traveled alone to the People's Republic of China. At 19, she talked her way into a spot at Peking University, becoming the first of two Westerners to study in China during the Cultural Revolution, a tale she recounts in her memoir,
Red China Blues, My Long March from Mao to Now.
Jan soon became fluent in Mandarin as a result of being the one and only student of a humorless Communist Party official (whom she nicknamed Fu the Enforcer.) On Saturday afternoons, as part of Chairman Mao's Revolution-in-Education Movement, Jan also dug ditches, hauled pig manure and harvested wheat, shoulder to shoulder with her Chinese roommate, Scarlet.
Later, as a foreign correspondent based in Beijing for six years, Jan was an eyewitness to the 1989 massacre at Tiananmen Square. Named one of Time magazines top ten books of 1996, Red China Blues remains banned in China.
Jan began her journalism career in 1979 as the first-ever news assistant for The New York Times bureau in Beijing. She reported on Democracy Wall, the beginnings of dissent in China and the underground disco movement. In 1981, after graduating with a master's degree from Columbia University's Graduate School of Journalism, she became a staff reporter at The Gazette in Montreal and, later, The Boston Globe, The Wall Street Journal and The Globe and Mail.
She is a recipient of the George Polk Award in the U.S. for business reporting, a National Newspaper Award in Canada for foreign reporting, the New England Press Association Newswoman of the Year Award, the Globe and Mail's Stanley MacDowell Prize for Writing, the Lowell Thomas Travel Journalism Silver Medal, a National Magazine Silver Award in Canada for column writing and the Daily Bread Food Bank Public Education Award in Toronto, among other honors.
Jan has degrees in history from McGill University and Peking University. She has taught journalism at Ryerson University in Toronto. In 2010, she was the Visiting Irving Chair in Journalism at St. Thomas University in Fredericton, New Brunswick. She currently divides her time between Toronto, where she is a columnist for Toronto Life magazine, and Fredericton, where she is a professor in journalism at St. Thomas University and a columnist for the Halifax Chronicle Herald, the largest independently owned newspaper in Canada.
Her other non-fiction books have been translated into many languages, including Swedish, Finnish, Dutch, Japanese, Romanian, Polish, French and Italian. They are:
-
Jan Wong's China: Reports from a Not-So-Foreign Correspondent,
-
Lunch With Jan Wong: Sweet and Sour Celebrity Interviews,
-
Beijing Confidential: A Tale of Comrades Lost and Found, published in the U.S. as Comrades Lost and Found and in the U.K. as Chinese Whispers,
-
Out of the Blue: a Memoir of Workplace Depression, Recovery, Redemption and, Yes, Happiness.
Her latest book,
Apron Strings: Navigating Food and Family in France, Italy, and China
, was published on September 12, 2017.
Photo by George Whiteside.